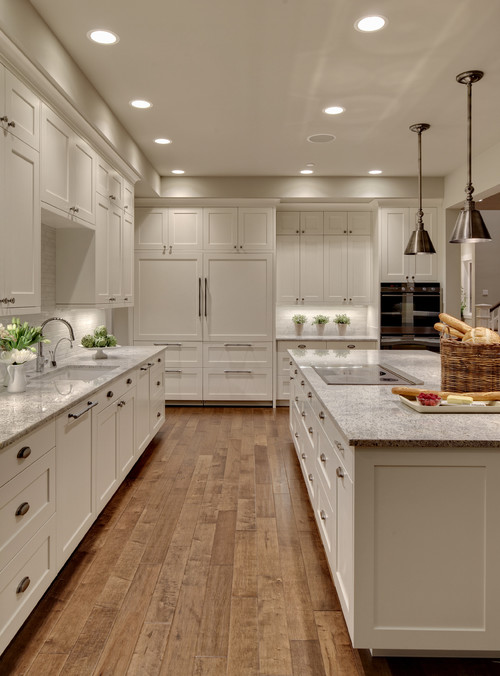 Houzz, my absolutely favorite platform for home remodeling and design, recently released the 2016 U.S. Houzz Kitchen Trends Study, an analysis of kitchen renovation projects by savvy Houzz readers.
WHY RENOVATE?
Over half the surveyed homeowners haven't updated their kitchen in twenty-one years! Unsurprisingly when asked why they initiated a kitchen remodel, 43% said they just couldn't stand their old kitchen any longer! Other triggers for remodeling included
Have the money (37%)
Newly purchased home (28%)
Changes in family and lifestyle (11%)
And despite what HGTV would have us believe, updating a kitchen to improve the resale value was low on the list.
WHAT FEATURES?
Open plan living remains a strong trend. Over 50% of renovators are opening up their kitchen to other interior spaces but not necessarily making a significant change in the size of the kitchen.
As for materials, white cabinets, granite counters, and hardwood floors are the most popular choices.  The most popular new appliance is a dishwasher, followed by a microwave.
Additional storage is priority in every room but especially the kitchen. Pull-out trash cabinets, tray organizers, wine cabinets, and pet feeding stations are among the specialty storage features of a fashionable kitchen.
WHAT DOES IT COST?
So what does this all cost?
A third of renovating homeowners are spending $25,000-$50,000 on their new kitchen and another third spend above $50,000.
Sounds expensive, but for most families,  kitchens serve multi-purposes. According to Houzz, nearly two-thirds of homeowners spend three or more hours a day there, eating entertaining, doing work/homework.
And if you only remodel your kitchen every twenty-one years, it is a bargain!
For a complete copy of the Houzz report, click here.

Print This Page